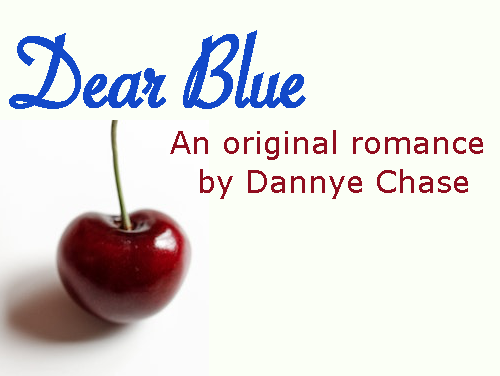 You can read and comment on Dear Blue on Ao3
Author's notes:
This story was written as part of Fandom Trumps Hate.
In the interest of helping readers keep track of who is talking, Blue's letters and texts are in blue type, and Cherry's letters and texts are in pink. But they are all labeled with the sender, so it should be clear even without the colors.
A sign on a cork board at Pride:
Pride Anonymous Message Board!
Take a number and pin it to your clothes. Come back later and see if anyone has left a message for you!
Leave messages here for other numbers: words of encouragement, notes of friendship, love letters, lyrics, poems, recipes— just keep it positive!
HAPPY PRIDE!
A note under the sign:
 To # 31:
I love your blue dress. I saw it flutter around your ankles and I thought of a river, 
Upside down, leaving your feet dry.
You look like a story my grandfather told me about a sprite
Which is not quite a ghost and not quite a fairy.
I always thought a sprite would shine like the sun on water
I guess because it rhymed with "bright" 
But I've never seen one, until today
And you do
(Hope you don't mind a silly poem I wrote in 5 minutes)
# 28
[drawing of a cherry]
___________________
A note pinned to a board at a pride parade:
To # 28
Dear Cherry, 
I don't think anyone has ever written me a poem before and this was so gorgeous?? I don't even know what to say!
I wish I'd run into you in person, but I just got this note and Pride is almost over. I hope I'm not too late and you get this message. I don't know if you'd ever want to write back, but if you do, there's a wall on the west side of the park with a loose stone at the top, by the swings. You can leave me a note there. I'll come back and check it tomorrow.
PS do you do other writing? I'd love to read more!
Your friend, 
Blue (# 31)
______________________________________
A note under a rock on the west side of the park, near the swings
Dear Blue,
Thank you so much for writing back! My friend grabbed your message for me as they were leaving. I'm glad you liked the poem. It was just what I thought about when I saw you. 
I do write other stuff. Right now mostly fanfic for a show I really like called The World's Over. Have you ever seen it? It's really funny and has a great lesbian romance. Let me know if you want me to talk your ear off about it (or write your eye off about it, I guess?).
Your friend, 
Cherry
______________________________________
A note under a rock on the west side of the park, near the swings, sealed with red sealing wax and the initial B
Dear Cherry,
YES I am willing to lose my eye to read about any show that has a great lesbian romance! And I'd love to read your fic for it. Are you on AO3? I spend way too much time there, but I don't write anything.
Your friend,
Blue
______________________________________
A note under a rock on the west side of the park, near the swings
Dear Blue,
Honest to god sealing wax! I feel like I'm writing to a queen in a tower.
Anyway, well, you asked for it. The World's Over is about a woman named Mariella who's this kickass spaceship captain, and she kind of falls in love with her spaceship. Which, like— weird, yeah. But the ship has an AI interface (with a female voice) and they always bicker about stuff, and the writers heavily implied that Mari was in love with her ship, it was really romance-coded. And then (spoilers) in season 2, Mari gets grounded to Earth when a mission goes badly. It was not her fault! But everybody blames her, especially because the space fleet is still sexist (like that's any surprise) but also because all the aliens think humans are screw-ups. But worse, when her mission went wrong, the ship was destroyed. So Mari is dealing with heartbreak from a lot of things— losing her captaincy, getting stuck on Earth, getting blamed for a disaster, but also losing someone she loved. 
But! Then! While Mari is on Earth, she meets this woman named Jamie, and it's like they know each other already and maybe share some memories? Like Jamie sort of knows about some of the adventures that Mari had in space, and also her favorite foods and things, and they bicker a lot. So the fandom was immediately like— Jamie is the ship! Reincarnated as a person! (Or something that looks like a person anyway.) And we had to wait almost a whole season for it, but it was confirmed, Jamie is the ship! But! She doesn't know it! Only Mari knows and we don't know how Jamie came to be or why she doesn't know who she really is! But they have this romance going— one on-screen kiss, I swear you could hear the fandom scream all at once the first time we saw it— and it's SO good. If you like space operas or romance you'd probably like the show! It's really funny and the writers and cast are awesome.
Oh, wow. That was a lot. I usually talk online and then people cut me off, so this is what happens when I'm the only one here, I guess. Sorry! Hope that wasn't too much and you still possess both your eyes.
On AO3, I'm CherryMari.
Your friend,
Cherry
______________________________________
A note inside a very small metal mailbox, painted blue with a red cherry on each side, placed under the pine tree right beside the usual wall. 
Dear Cherry,
Hi! It's been so rainy that I made us a mailbox. Well, I bought and painted one, anyway. I'm glad you like the sealing wax, and I hope you don't mind the mailbox. I'm just a crafty person. My fingers have always got paint or glue or ink on them, I swear. Or tomato paste or grape juice— I work at a grocery store! Last week I got cat food on my hands from a broken can and I smelled like tuna the whole day, which is not cool actually.
Anyway I watched the first episode of TWO! And omg I can totally see how Mari's going to fall for the ship, they're so bitchy?? Like if my car talked back to me that way I would probably threaten to puncture the tires, but Mari is just like— running her HANDS over the CONSOLE I cannot with this show. Thank you so much for turning me onto it!! 
I have this afghan I'm crocheting and it's made up of 49 squares and I love the pattern, but I'm on square 14 and THEY'RE ALL THE SAME and I'm going to lose my mind doing this 35 more times, so my plan is to binge watch TWO while finishing this damn thing. And then I'm going to read all your fic and leave you comments where I yell a lot. I'm 4canaries on AO3. (Because my mom gave me a bookmark with 4 canaries on it once and it was on my desk when I made up my username.)
Write soon!
PS: About me, in case you are wondering— age 25, female, gay. Writing that seems really awkward. Don't feel like you have to tell me about yourself unless you want to.
Yours, 
Blue
______________________________________
A note inside the little mailbox
My Dear Blue,
OMG the mailbox!! It is my new favorite thing! You are so talented.
Before I forget, important TWO PSA: When you get to season 1, episode 9, remember to breathe and maybe have some ice cream. Just sayin'. But it gets better, I promise. (Sorry for making you watch something that might break your heart, I swear it's temporary!)
I was thinking about you today and I just wanted to say— it's been so nice to write to you. I'm enjoying getting to know you, and we've become such good friends. It's nice too, to talk with someone who's local. Online friends can be anywhere, but you and I have the same weather on the same days, and that feels really special. 
Me: female, 24, so gay. I work as a dental hygienist, so my hands never actually get messy, but they do smell like latex. (Ick.) I live with my mom and my grandma, and when they touch me sometimes I get startled by how hot their skin feels, because at work all day I touch people with gloves on and I can't feel them very well. This probably doesn't make any sense, I was just thinking about giving you a hug someday. If we ever meet in person.
But also my grandma reminded me that when I was little and she and I lived apart, we used to play this stupid game over the mail. If you want, maybe we could play? The rules are weird and that's kind of the point, it's just a weird, fun game. Let me know!
Yours,
Cherry
______________________________________
A note inside the little mailbox
Dear Cherry,
Season 1, episode 9. I cried for like an hour. But you said it would get better, so I am placing my trust in you!
Seriously though— Ajax was my favorite character! And they sent him off all by himself to that stupid planet!! In a broken shuttle that will not take off again!! Who is going to make the jokes now and who is going to clean the kitchen sink with a toothbrush and who is going to sing stupid songs while everyone else is trying not to die in battle, like I don't think I can go on in life if Ajax is missing?? Dammit. And the ship (who will be Jamie) is SO heartbroken like you can just hear it in the way she talks and her dash lights are so dim! 
Yes, please send a weird fun game I'm over here crying on my crochet.
Yours,
Blue 
______________________________________
A note inside the little mailbox
My Dear Blue,
I'm so sorry about Ajax. I swear it gets better, he comes back! Hang on just a few more episodes! 
In the meantime, here is the game: it's based on rhyming and I don't even know what, stuff my grandma and I made up when I was a kid. So I'll start by giving you a few lines about these two men I have (go ahead, make your jokes) and I write rhymes about them and then you write rhymes back and we see what happens.
So: 
I have two men
I keep them in a drawer
When I feed them candy
They always want more. 
Today I made them cook
And when I took a look, I found ______
(Now you have to write rhymes about what they cooked. Or they don't have to rhyme, really, if you don't want to. Yeah, it's weird.)
Yours, 
Cherry
______________________________________
A note inside of a package in the little mailbox
My dear Cherry,
I will have you know I can't rhyme to save my life. Or write poetry. But I am being very brave, so here you go:
When I took a look, I found noodles
Many oodles.
They made sauce
Cause they're the boss(es)
And now you're just laughing at me and the men are laughing at me so I sent them to the STORE for MORE and you can say what they buy.
Does that work?? This game is so hard!! 
But I have this need for you to think I'm not an idiot (even though I am) so I'm sending you a usb stick and it's got my music on it. I mean, that's me, playing the fiddle. I've been playing since I was seven. My dad had a friend who taught Irish fiddle and so that's what I learned. I played in the orchestra in school, but I prefer the fiddle music. I can kind of play the harp too— I'm working on it, anyway.
And I stayed up way too late and watched TWO until Ajax came back so now I feel better. And my afghan is almost done!! 
But now— I started season 2 and who is this Lord Davin person? What does he want? I am so suspicious of him! And I know that Mari gets sent to earth in the middle of season 2 and the ship gets destroyed, so I stocked up on ice cream. 
Yours,
Blue
______________________________________
A note inside the little mailbox
Blue!
This music! I cannot believe this is you playing, you are SO talented! I don't know how to describe it, but you know it rained today, and when I put your music on, the whole kitchen just lit up in bright colors. Just as bright as the sun. I tried to explain it to my mom and grandma, but they thought I was nuts. I'm sure they're right. Haha. 
Sorry about the game, you did great, but I think we should maybe try something that you'd like better. We could do a board game by mail if you want?
And oh, Lord Davin! He is the bane of our existence. We call him Lord Dumbass and we write kinky sex about him, but we also love to hate him so much. Ah, fandom. 
I know the ship is going to seem to die, but it's actually done pretty well, with a lot of signs that she's not really gone. So it probably won't break your heart as bad as Ajax (thank God he's back). And he's in season 3 also (yay!).
I don't really know how to say this either, but a lot of times my day gets better when I think of you, and hearing your music was like that, only multiplied. 
Your Cherry
______________________________________
A note inside the little mailbox
Dear Cherry,
That's easily the nicest thing anyone's ever said to me, about your day getting better when you think of me. I just— I think I read your letter like 10 times in a row. I think about you all the time and I always feel cheered up too. So much. 
Also I think you might have music synesthesia! That's where you see colors and patterns when you hear music. It's pretty common in musicians and writers too. I have it for a lot of stuff, so like, when I see certain colors, I can taste them in my mouth, and when I feel pain, I see it in colors too. It's a kind of cross-wiring in the brain, where stuff is experienced with more than one sense. It's different for everybody. But the main test is to ask "What color is the letter A?" because most synesthetes (people with synesthesia) have letters with inherent color and sometimes age or gender. Like for me, A is yellow, and the number 2 is blue and a little boy. This is so weird, I know, but it runs in my family, so we learned about it. I was just thinking maybe this is something else we share.
I finished out season 2 of TWO. You said it wouldn't break my heart, but it did, but I guess in a good way? I can totally see where the writers are planning to bring back the ship. She doesn't really seem dead. But I can't wait to read all the season 2 fix-it fics! There's got to be a ton where the ship doesn't die and they have a happily-ever-after. Anyhow, season 3 coming up and then I know it was renewed for season 4. You and I will have to watch it at the same time so we can scream about it in our letters.
I think it would be great to play a board game by mail! I've got Monopoly here, and checkers. I guess chess too, but I don't know how to play that. Oh, and I have Sorry! I used to play that all the time as a kid. 
Thanks for your letters. You don't know how much I look forward to them.
Your Blue
______________________________________
A note inside the little mailbox
Dear Blue,
Sorry it is! For the game. Haha. I've got that at my house too. I suppose I should be red and you should be blue. We'll have to have our own piles of cards, though. And I am just realizing that it might be forever before one of us actually draws a 1 or a 2, so maybe we should just both say we drew a 1, and get the game started that way? (I have no patience, you may have noticed this.) 
How is season 3 of TWO going? You should know the fandom went nuts (we're good at that) about the chocolate oreo cake in episode 3. All these artists drew it and then somebody even put out a recipe. I don't know why it's a thing, but it's a THING. Anyway, I put the recipe with this letter in case you want to try it yourself! I must confess that I am a blasphemer because I like it with vanilla frosting. Don't tell anybody!!
And I have never heard of synesthesia! Cue a lot of internet searching from me and WOW that makes so much SENSE I just thought I was weird (and I am) but now I'm not the only one who thinks that fiddle music has colors wow. This is amazing. You have changed my life. In a lot of ways, really. So I discovered that I hear "white noise" as gray or brown. Today I heard a crying baby and it was just all these shades of orange. Also, it really must be subjective, because the letter A is NOT yellow, my dearest, it's red. Hahaha But seriously thank you so much for bringing unexpected clarity into my life!
I hope it's okay to say, but you helped me a lot this week, because I've been having kind of a rough time. My grandma's health isn't great, and I get really worried. I know she's in her late seventies and this is normal, but somehow in my heart I have this belief that she'll never get old and die. Like I know it happens to other people, but it's like I just think she's going to be around forever. I've tried to accept it, but my heart just Will Not. She's always been here, so why should that change?
Sorry to be a downer. I don't have a lot of people to talk about this with and you're a really good listener. But let me know if you don't want to talk about this kind of stuff, that's fine!
I hope you enjoy the cake!
Your Cherry
______________________________________
A note inside the little mailbox
Dear Cherry,
I am so honored that you would talk to me about your grandma. I know how close you two are. I don't have any living grandparents, but I remember my mom's dad pretty well. He was a great guy, but I never had anything so close as what you have. I'm glad you have it, but it must hurt so much to think about losing it. My mom took it really hard when her dad died, but I remember somebody told her that you can never fully lose somebody that loved you when you were growing up, because their influence on your life is part of you now and it always will be. I don't really have any more unsolicited advice to offer, but I'm so happy to listen anytime you want to talk about your grandma. She sounds like a wonderful person.
As for our game: So I drew a six and went forward six spaces. I realized though that we didn't talk about slide rules! Can I slide on my own color or not? And what about backwards 4— can you walk back from your start to line up with your home? I think a lot of families have their own rules so we'll have to come up with ours!
And OHO the actress that plays Jamie/the ship is HOT. I have tried avoiding fan art so far, so I did not realize that. And she and Mari touched?? In their first scene together?? Sluts!! 
Oh those girls are SMITTEN. They don't have a chance. "Oh, I'm just getting coffee can I get you anything" *comes back with a MUFFIN on a china PLATE* like where is the engagement ring, Mari?? And Ajax just having a REALIZATION because oh huh this looks kinda gay…  Ah, my sweeties I love them so much. 
Also I have a question: it occurred to me that you saw me at Pride, however briefly, but I don't actually know what you look like. So here is how I imagine you: you have the usual number of bones, and you keep them inside your skin, more or less internally organized, along with your internal organs (not sorry for the pun). You have eyes and hair, and your nose has at least two holes in it. I know you work as a dental hygienist, so I'm guessing you have teeth. How did I do?
Love,
Blue
______________________________________
A note inside the little mailbox
Blue!
I am dying of laughter. Especially because you got the nose thing right, I have 3 holes in my nose because I wear a stud on the left side. Usually a red jewel. But you're right, I have you at a disadvantage, so I am enclosing a picture of me that a friend drew. And this is where I finally realized that you and I have friends in common, because Sy, the one who sketched me, knows you, I think. And I think my friend Mazie's roommate Dave works at your store. Small world! Or small city, I guess. 
As for our game: hell, yeah, go backwards 4 but maybe you can't slide on your own color? That's how we always play, anyway. So I drew a 2 and now I have 2 red dudes out. Oh crap we need to say if our dudes can occupy the same space with other dudes. We play that it's ok with your own color, but the opponent's dude sends you back to your start. Does that sound okay? Anyway, I drew again after that because 2 is a repeat, and I drew a 5. So I just took my dude 5 steps. We may be at this game a while! lol
Thanks so much for listening about my grandma. I would love to tell you all the great things about her. So she lived farther away until she retired, and then she moved to the same town as us. And then when my dad split, she moved in. I was twelve. 
She can't cook, but I think she has some sort of weird magic because the woman constantly has coupons to every restaurant in the tri-state area. I honestly don't know where she gets them and I'm kind of afraid to ask. So when it's her turn to cook, she gets take-out or delivery, but I think she gets delivery from places that don't deliver. I've heard of kitchen witches, but I think she might be a restaurant witch. 
She also likes to sing, but she doesn't know lyrics, so she'll just sing about what she's doing, like gardening, or she'll use one of the like 3 sets of lyrics that she knows instead. So we get the lyrics to what I'm pretty sure is "Almost Like Being in Love" from the musical "Brigadoon" to some 50's pop melody or some 70' folk rock thing. It's kind of hilarious. 
She can sew really well, and when my mom was little, she used to make them matching clothes— mom, daughter, and one of my mom's dolls. We still have all those clothes and I used to wear them with my mom and my doll when I was a kid. 
She smells like soap. She doesn't like clutter, so her room is really neat and tidy except for this one armoire she has with glass doors that is The Place To Put Stuff. It's crammed full of china figurines and plates with tourist attractions painted on them and little bells and salt & pepper shakers, but it's all in this one area of contained chaos.
She's in pain sometimes from her arthritis, and she has diabetes too. At least her mind is still there, you can't fool her about anything. 
Wow, that was a lot again, sorry. #the downside of being a writer. I know you and I don't really say things like this, but I'd love you to meet her. Someday, if you want.
And confession time: there was nothing brief about my seeing you at Pride. I thought you were the most beautiful girl I'd ever seen and my friends tried so hard to make me talk to you, but I was too scared, so I wrote you a poem instead. Oh god, I can't believe I just wrote that, I hope you don't think I'm being pushy or weird, because I don't mean to be. 
I never thought you'd write back.
Your Cherry
______________________________________
A note inside the little mailbox
My dearest Cherry,
I put that sketch of you in a frame on my desk, so I hope that tells you that I don't think you're pushy or weird. I think you're wonderful and I can't tell you what it means to have you in my life. 
My own confession: I haven't done anything like this before, so I actually asked my roommates how to flirt. But it turns out we are all useless, so my roommate Carrie asked their niece, and this is what we got: 
"You are very pretty. You smell nice. Maybe you smell like cookies or the dryer or like grasshoppers [we didn't dare ask about this]. You are very good at writing. You're not a real princess but maybe you are. I hope you have a good day when I have a good day too."
You can probably tell she's 4. But she's got more game than I do so— I hope you feel Very Flirted With.
I love the way you describe your grandma, she sounds amazing! I would really like to meet her someday, if that's a thing we do. I would like it to be a thing we do.
Got to episode 8 of season 3, and I finished my afghan! I have a new project I'm starting now, but I'm keeping it a secret. (It might be for you.) I know they kiss next episode and I cannot wait!!
As for our Sorry game, I drew a Sorry card, I'm so sorry, I feel like it's really bad to sorry your crush, I don't know what to do please advise!
Love,
Blue
______________________________________
A note inside the little mailbox
My Blue,
I have never been more happy to get a letter from you. It's amazing that you would even want to flirt with me!! And all I can say is that it's been highly successful. I don't know what more to say even though I usually talk so much. Just imagine me staring at your letter all day. 
My grandma wants to meet you too. And my mom. But if this is a thing we're going to do, then I should warn you my mom wants you to come for dinner, and she'll make black bean soup, but the thing is, her soup is really spicy. And I have TOLD her not to make that for my friends but for some reason she feels it's a Very Nice Meal To Impress Guests, and I'm— ?? So yeah. 
Maybe we could meet?
Love,
Cherry
PS I almost forgot but please Sorry my ass back to start, I can take it. 
______________________________________
A series of text messages
Blue: Hi, Cherry— I hope this isn't too creepy a way to reveal that because of our friends in common I actually know your name and have your number!! But I need help, my roommate Carrie has 27 cupcakes for their niece's preschool class party, but they're super sick and can't deliver the cupcakes, and I need to stay with them, and you are the only person I know who is not at work right now, because I know your dental practice is closed on Mondays. Please please don't think I'm a creep. This is Blue by the way.
Cherry: Blue— I know your name too, you idiot, what's your address? 
Blue: Just sent you the place on Maps. You are a lifesaver
Cherry: Fuck we're going to meet
Blue: Oh yeah. Oh boy
Cherry: It'll be FINE. Ok I'm in the driveway
***
Ok got the cupcakes delivered. I am not sure that very large group of jumping children needs more sugar, but sugar has been provided. Also HOW did Carrie get the cupcakes to look like butterflies on the top with like dried fruit or something? Actually I have a SUSPICION, seeing as you're a fabulous artist
Blue: Thank you!!! You are my hero. And far too kind. Uh, yeah, the butterflies are mine
Cherry: I knew it. Listen. Do you maybe like
Blue: Do you want to watch the end of season 3 with me?
Cherry: I was just going to ask that
Blue: I figured
Cherry: Can you come for dinner? Or do you need to stay with Carrie?
Blue: No, our other roommate Jay can stay with them after he gets home from work. 
Cherry: It'll be spicy soup
Blue: Worth it. You're like, amazingly pretty in person by the way
Cherry: asdfghjkl
This is kind of funny, but your voice is blue. When I heard you talk, I saw little blue patterns in my mind
Blue: No way
Cherry: What color is my voice?
Blue: I was too busy blushing and staring to notice sorry. I'll see tonight I guess
Cherry: It will be the kiss episode, you know. 
Blue: So is this you flirting back?
Cherry: More like panicking, but sure? Did it work?
Blue: I'm feeling Very Flirted With
Cherry: Oh good. I guess then— see you soon. Can't wait
Blue: Me either. 
See you soon.