Link is a 9-year-old black lab mix who was adopted eight years ago from a local shelter.  When his mother was pregnant, she was brought to the shelter, and she had her puppies in a foster home.  She was "the yellowest yellow lab ever," but bore seven black-and-white puppies.  The shelter named them after the seven dwarfs.  Link's name:  Sneezy.  "The shelter was amazing," Link's human mom says.  "He was brought up to be great with kids, cats, and other dogs.  The shelter made sure he was a highly desirable adoptee."
Link's mom says he deserves praise for being a friendly goofball who is great with her kids, and a good companion for her other dog, who is now elderly.  Link also has a big voice and helps keep his family safe by barking at people who come to the door.  Of course, as soon as the people come in the house, Link is their best friend forever!
Link deserves special praise for once saving his mom from a bee.  His mom brought laundry in from the outside line, and "as a lab, Link is good at being happily obnoxious, and wanting to help out with whatever you're doing," says his mom, "but this was ridiculous.  He would not leave the laundry basket alone."  Finally, his mom examined the laundry more closely and found a stunned bee trapped between sheets.  She was able to get it safely outdoors without being stung, which is especially good, as she is allergic to bees.  "Link saved me, and the bee!" she says.
Good boy, Link.
Photo below:  When Link's mom was in cancer treatment, she had to move into a different bedroom for a while.  Link left his comfy dog bed to sleep in the new room, so they built him a bed of pillows.  He just didn't want her to have to sleep alone.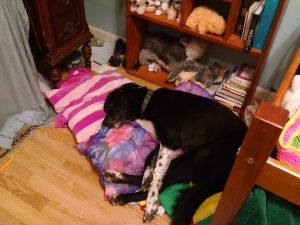 Do you have a pet that deserves praise?  If you would like to see your pet featured on The Bright Side Pet Praising, you can submit their story here.